Corinth, 4th century BC. Under a blazing sun, merchants come from the 4 corners of the Mediterranean Sea to sell their goods: Persian carpets, olive oil from Crete, grapes from Rome or spices from Egypt, all products whose luxury can ensure the wealth of the most ambitious...
But if not, how to play?
How to play?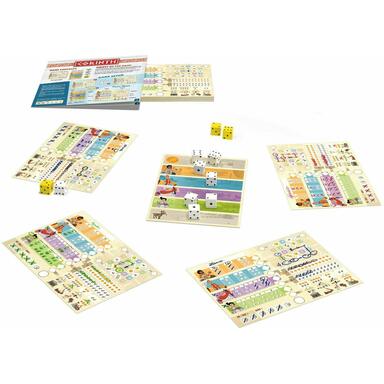 You play one of these merchants. Send your faithful steward to the market, deliver your goods to the best shops in the port, have the buildings built to help you grow and become the most famous of your peers... In a few weeks, we will know which one of you will go down in history as the best merchant in Corinth.

In Corinth, at each round, a handful of dice are rolled and players, in turn, choose a group and use them to deliver goods, buy goat herds or visit the market, recording their progress on their card. In this game, you will always have to keep an eye on your rivals, and you will have to choose between making the best choice for you or preventing them from accessing theirs...
How to win a game?
How to win?
When all the players have acted during the last round (all the boxes are ticked on all the players' lap counters), each player counts his points.

Add the points of the complete stalls, any bonus points of the complete districts, 1 point for every 2 remaining gold pieces, 1 point for every 2 remaining goats, the points of the steward as well as the points of the Temple if it has been built.

The player with the most points wins the game. In the event of a tie, the player with the most gold coins left wins. If the tie persists, the players are tied for victory.
Rule, Educational Sheet ... 2 Files Available
2 Files Available
Download the rule for Corinth or any other documents (scenarios, goodies, pedagogical sheet, erratum, ...). 2 PDF files are available. See all available files
---
Contents of the box :
1 port board, 150 game sheets, 9 white dice, 3 yellow dice, 1 rule booklet.