Hoist up high mussels! Finally the sea loot is within reach! Drop anchor to open all these mysterious chests and take them aboard your boat! Keep an eye out, you're not the only pirate who covets these fabulous treasures!
But if not, how to play?
How to play?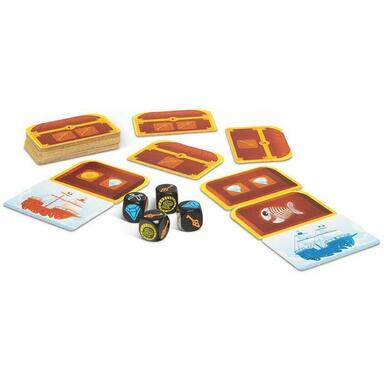 The player whose turn it is rolls all 4 dice. If he is not satisfied with the result of the dice, he can roll all the dice once again. He must then use his dice by placing them on the cards to Open Chests, and/or to Load the Treasures aboard his Boat. You can only place dice if you fill all the slots on the card. If one or more dice cannot be placed on a card, they are set aside (their effects are lost for that turn).

Once the 4 dice are placed on cards and/or set aside, the player can: Open Chests, Load Treasures into your Boat.

Face of "Sabres" dice. The die faces may also indicate Sabres. Sabres work like jokers and can replace a Coin, Diamond or Key.

The "Fish Bone" cards. It's been a long time since this chest has had a treasure left! These cards must be loaded directly into the Boat and will not count any points at the end of the game.

At the end of his turn, the player gives the 4 dice to his left neighbor and replaces the Chest cards taken during his turn with new cards from the deck, so that 3 Chest cards are always visible in the center of the table.
How to win a game?
How to win?
The end of the game starts as soon as a player opens the last Chest. From that moment on, each of the players (including the player who triggered the end of the game) still plays one more round. Each player then counts the points of his loot; each Gold Coin and each Diamond earns one point. Fish bones don't make any money! The player with the largest loot wins the game.

In case of a tie, the player with the most Diamonds is declared the winner. If this fails to break the tie, the player with the fewest fish bones in his boat is declared the winner. If the tie persists, the players are jointly declared "big winners".
Rule, Educational Sheet ... 2 Files Available
2 Files Available
---
Contents of the box :
4 dice, 18 chest / treasure cards, 4 boat cards.